Return-to-Campus Plan: Updates
July 30, 2020
Logan University Doctor of Chiropractic Students,
Looking ahead to Fall 2020, our goal – as a University – was to develop a flexible approach to academic instruction considering adjustments if conditions improve or worsen. Many options were considered while keeping the health and safety of the Logan community top of mind.
Given the state of the COVID-19 pandemic and current rise in infection rates regionally and across the United States, we have decided to move forward with a hybrid format.
This plan includes a full 15-week format for the online delivery of lecture courses and an 11-week compressed format for on-campus, hands-on lab practical portions. The on-campus practical portion will conclude by November 20, 2020 and credit hours for practical portions will be met through expanded assignments and activities.
All students will be required to return for the hands-on lab practical portion and students in on-campus and off-campus clinical rotations will be required to fulfill the entire 15-week trimester. More information on how we will accommodate students who cannot return due to international travel restrictions or quarantine will be forthcoming.
Benefits of this hybrid model include:
It permits students who are not in clinic to complete their on-campus activities prior to the Thanksgiving break and not return to campus until Spring 2021 semester. The Fall term will begin on the scheduled start date of Thursday September 10, 2020.
It allows us to be more flexible should the CDC, state or county public health authorities impose additional restrictions.
By maintaining a block schedule for the fall term, the number of times per week students and faculty are required to report to campus are reduced, thereby lessening exposure to larger groups.
It provides enhanced opportunities for student experience and demonstration of practical/clinical competencies required for successful progression in the program.
The final block schedule for Fall 2020 be communicated to you no later than Friday, July 31.
We are reviewing all of our current safety and accessibility procedures as we move toward Fall and continue to monitor and respond to the COVID-19 pandemic in a way that promotes the safety of all students, faculty, staff, patients and guests. Our policies and procedures will be aligned with guidance and recommendations from the CDC and public health authorities.
Please email any questions or concerns to CampusReturn@logan.edu.
Return-to-Campus Plan: Updates
July 3, 2020
Students, Faculty and Staff:
As you arrive back on campus, we wanted to make you aware of a few new processes and procedures that have been implemented since our Return-to-Campus Plan was released.
In accordance with a public health order issued by St. Louis County on July 1, Logan requires all individuals to wear a face covering while on campus and in campus facilities when other people are present. It is important that all individuals, who over the age of 9 and who do not have a disability, abide by this order while on Logan's campus.
Minor changes have been made to the block schedule: Please see here for revised schedule.
For faculty and staff with offices, please remove the "out of office" signage from your office door when returning to campus. This will alert the Physical Plant staff that your office may be cleaned and disinfected on regular basis.
Out of an abundance of caution, students, faculty and staff are discouraged from eating together on Logan's campus when face coverings cannot be worn.
All water fountains and water coolers on Logan's campus will not be accessible. Please be sure to bring a personal water bottle with you.
Additional clarification for those with confirmed cases of COVID-19.
Based on current guidelines from St. Louis County, individuals with confirmed cases must quarantine for 14 days from the date of positive test AND have been entirely asymptomatic for 3 days. After they satisfy the criteria, the Department of Public Health Medical Officer reviews the case and issues a release letter. Asymptomatic contacts must also quarantine for 14 days. Assuming they remain asymptomatic, they can return afterwards.
As a reminder to all, please do not report to campus if you are experiencing any COVID-19 symptoms.
The above changes and revisions have been updated in the Logan University Return-to-Campus Plan which can be found here.
Logan University Return-to-Campus Task Force
Return-to-Campus Plan
June 29, 2020
Students, Faculty and Staff:
As we anticipate the arrival of students and additional faculty and staff on Logan's campus beginning Monday, July 6, we have created a Return-to-Campus Plan that outlines new measures and procedures that will affect everyone coming to campus. Please review this plan in its entirety and understand that tweaks to this plan in the coming weeks may be necessary for improvement and overall success. We ask for everyone's patience and agility as we, as a community, implement this plan together.
As always, the health and safety of our students, employees, patients and guests remains a top priority. We remind and encourage everyone to practice safe social distancing and take care to protect themselves and others. Should you have any questions or concerns, please direct them to CampusReturn@logan.edu and the Task Force will answer in a timely manner.
Thank you for your support, guidance and cooperation.
Logan University Return-to-Campus Task Force
Announcement from the Office of Financial Aid
June 24, 2020
Students:
Congress passed the Coronavirus Aid, Relief, and Economic Security Act (CARES Act) in response to the economic impact of the COVID-19 pandemic. The CARES Act established the Higher Education Emergency Relief Fund (HEERF) to provide students with emergency financial aid.
In order to award HEERF funds to students, the Department of Education (ED) requires all institutions to provide regular information regarding the funding, awarding and number of students receiving these emergency grants.
The Department of Education notified Logan University that it was approved to receive HEERF funds totaling $224,284 of which $112,142 (50%) was to be awarded in direct emergency grants to students. The university completed the necessary certification and agreement for the funds while developing a process to award the emergency grants to students.
In order to qualify for the emergency grants, students had to be eligible for Title IV funding as part of the Higher Education Act of 1965 and enrolled in on-campus courses as of March 13. At the time this funding was made available, Logan University had an estimated 735 students who could be eligible.
All students wishing to receive the emergency grant needed to submit an application requesting the funds. Applications were reviewed and, if approved, received grants ranging between $50 to $500 per application. Approved requests had to meet Title IV eligibility, qualifying expenses, and enrollment criteria.
All eligible students received an email solicitation to apply for the emergency grants as well posting the information regarding the grants on the Logan University website.
As of June 23, 2020, $104,918 has been awarded to 244 students.
For more information on eligibility and the application process for this financial aid please refer to the CARES Act info sheets.
Summer 2020 Practical Course Schedule Announcement
June 22, 2020
Students and Faculty:
As indicated in prior communications, the College of Chiropractic will be resuming on-campus delivery of the laboratory components of many practical skills courses, effective July 6, 2020.
The intent of this return is to maximize opportunities for development and assessment of student competencies required for progression through the Doctor of Chiropractic program and, ultimately, graduation and practice, while following CDC guidelines to ensure safety during the ongoing COVID-19 pandemic.
These courses have been scheduled in morning and afternoon blocks throughout the week as represented by the table below. In addition to the resumption of hands-on, practical learning opportunities, the design of this schedule provides:
Reduced number of campus visits for each class cohort.
Concentrated opportunities for student engagement during each campus visit.
Reduced number of individuals on campus at any time.
The schedule below was updated with the schedule updates announced on July 3.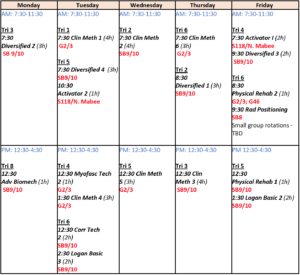 Courses not resuming on-campus delivery during the remainder of the term will continue to be delivered remotely. Those courses will provide flexible opportunities for student participation, thus facilitating students' engagement with all courses in the program.
Students who are unable or unwilling to return to campus for practical coursework on July 6 have the option to continue these courses remotely for the remainder of the term. Students electing to remain off-campus through the end of the SU'20 term must inform their Academic Success Coach no later than Monday, June 22 via this form.
For those returning to campus, we will be employing a variety of safety measures including:
Interpersonal distancing in practical lab and other spaces
Daily screening procedures
Wearing of protective masks
Physical barriers
Expanded sanitation and disinfection practices
Additional information about public health and safety measures for on-campus activities will be forthcoming in separate communications. The most recently communicated health and safety measures can be found in the Return-to-Campus FAQ's.
We are excited to resume on-campus teaching and learning in these courses that are integral to chiropractic training and practice. We look forward to seeing you all on campus soon!
Return-to-Campus Announcement
June 16, 2020
Students:
As you know, some hands-on practical courses will resume on campus starting July 6. Should you be unable or uncomfortable returning to campus at this time, you have the option to continue the summer trimester online.
Please use the link below to notify the campus that you will be continuing all Summer courses online. If you are unsure what to do, please contact your Academic Success Coach.
Notification of Remaining Completely Online – Summer 2020
Please notify Logan of your decision by Monday, June 22.
For additional questions regarding the return-to-campus plan, please see the Return-to-Campus FAQ's.
Return-to-Campus Plan
June 5, 2020
Students, Faculty and Staff:
First and foremost, I have been overwhelmed by the support you all have provided over the past few months. Through these difficult times and unprecedented challenges, you have demonstrated courage, leadership and solidarity in such a way that makes me proud of those who call Logan their home.
We have been working extremely hard on developing a multi-phase, return-to-campus plan that keeps your health and safety a top priority. St. Louis County's recent announcement to reopen has allowed Logan to move forward with this plan in accordance with federal, state and county guidelines.
As always, we are monitoring the situation on a daily basis and will keep you informed of any changes in County or CDC policy/recommendations that may impact the plan.
Montgomery and Mid-Rivers Health Centers have remained open on a limit basis and will progressively ramp up. Additional clinic shifts for students will be added as patient volume resumes and telehealth services which began during COVID-19 will continue.
Logan will resume practical/lab courses on July 6, 2020 for all Trimester 1 – 8 Doctor of Chiropractic students as well as the faculty and staff who support those practical/lab courses.
For those students who are uncomfortable or unable to attend clinical experiences and practical/lab courses, Logan will continue to provide virtual experiences.
Face-to face lecture courses will resume September 10, 2020, the start of the fall trimester. At that time, we intend to have all remaining faculty and staff return to campus.
That said, new procedures, safety precautions and social distancing practices will be in place to safeguard you, our patients and faculty/staff health and well-being. This will include screening procedures, sanitation and physical barriers procedures, smaller course section sizes and staggered class start times, among other recommendations from the CDC.
More information regarding schedules as well as the implementation of the above public health measures will be forthcoming from the Registrar's Office, Human Resources and Academic Affairs as well as other appropriate divisions.
All students are encouraged to join the Dean of Students and College of Chiropractic Dean for regular video chats regarding additional information on the return-to-campus plan. Past video chats have been recorded and are available on Logan Connect. Any questions or concerns may be directed to Associate Provost and Dean of the College of Chiropractic Dr. Joseph Pfeifer, Joseph.Pfeifer@logan.edu.
We appreciate your patience, understanding and cooperation as we continue to work through this plan. I look forward to being back together.
Stay well,
Clay McDonald, DC, JD, MBA
President, Logan University
A Message from the Logan University President, Dr. Clay McDonald
Logan Campus Updates
April 3, 2020
Missouri Gov. Mike Parson issued a statewide stay-at-home order to help slow the spread of the Coronavirus/COVID-19. The order goes into effect on Monday, April 6, and remains in place until Friday, April 24.
Logan University has been in compliance with all directives and will continue to make decisions focused on the safety, health and welfare of our community. Our campus and clinics have been closed to all, with the exception of those who are providing essential services.
We encourage you all to practice social distancing and to be safe.
March 23, 2020
Logan courses have moved online and are available from Canvas.
A full list of information and resources for Students and Faculty is on our website here.
If you need technology support please contact the IT Help Desk at:  636-207-2475 or email the IT Help Desk at:  help.desk@logan.edu.
Information and guidance from the World Health Organization regarding the current outbreak of coronavirus disease (COVID-19).
Learn More
Information and updates regarding the Coronavirus (COVID-19) from the US Center for Disease Control and Prevention.
Get the Latests
The Missouri Department of Health and Senior Services (DHSS) activated a statewide public hotline for citizens or providers needing guidance.
Learn More
Review previous communication from Logan University.
Learn More
Instructions for locating Logan Faculty and Staff contact information in Outlook for MAC, PC, Web-based and Mobile.
Get Instructions
Wherever you are located, the Logan University Library can provide services and resources to support you and your research needs.
Learn More