Leading the Way into 2020: Perfecting Solutions for Better Health Care
24 HOURS OF CONTINUING EDUCATION
Featuring top experts and thought leaders in chiropractic and health sciences.
Join colleagues, faculty and staff for Logan University's seventh annual Spring Symposium featuring speakers and continuing education opportunities, chiropractic exhibitors, networking events and a State of the University Address/Scholarship Luncheon by Logan's President, Clay McDonald, DC, MBA, JD.
A special Logan University rate for the 2020 Spring Symposium is arranged at the St. Louis Union Station hotel by Hilton. The guest room rate is $145 per night, overnight parking is $20 for self-park ($35 for the valet), and day-pass parking for locals is $10 per day. Reservations may be made by calling +1 314-231-1234 and mentioning the Logan University 2020 Spring Symposium rate or click here to book online.
Exhibitors: Click to Register and Pay Online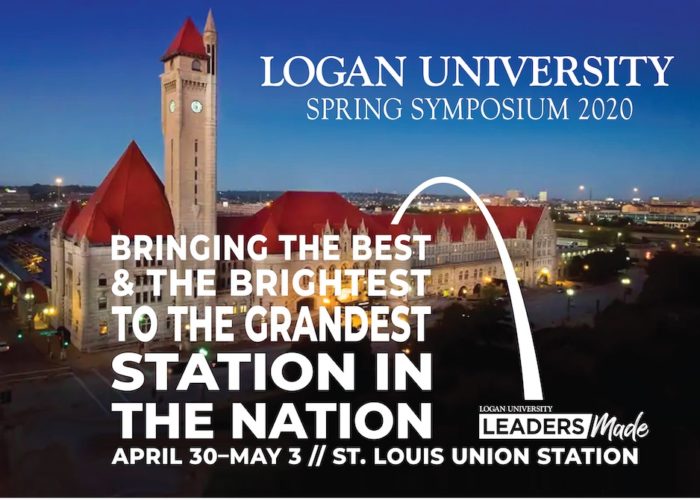 We are excited to announce a new location for the Logan University 2020 Symposium: the landmark St. Louis Union Station – a hotel, event space and attraction destination.
The iconic Union Station is nearing the completion of a multi-year renovation aimed at preserving its rich history while offering a variety of new amenities, from a Ferris wheel and aquarium to specialty restaurants. The new location can accommodate growing attendance and provide unique social and networking opportunities for attendees. Classes and events will also be hosted on Logan's Chesterfield campus.
Complimentary shuttle service Thursday April 30, 2020
Pickup from Union Station Hotel and drop off at Logan University: 10:30am, 2:00pm, and 4:00pm
Pick up from Logan University and drop off at Union Station Hotel: 5:00pm and 7:15pm
2019 Spring Symposium
Check out all of the highlights from our 2019 Spring Symposium.