Logan University is looking forward to welcoming alumni, faculty, staff and hundreds of leaders in chiropractic and health care to Symposium 2023: Honoring Tradition, Shaping Our Future April 13-16 on campus and at St. Louis Union Station. If you have not already registered, here are 10 reasons to consider attending this year's event.
Expand your knowledge.
Informative, inspirational and entertaining, Symposium 2023's nationally recognized speakers will address a variety of relevant topics, including clinical biomechanics of spinal disorders, chiropractic care for adolescents and pregnant patients, microbiome in gut health, cybersecurity, preventing medical errors during a pandemic, and more. View and download the full schedule.
Learn from industry leaders.
Attend presentations from 25 chiropractic and health care experts including Elise Hewitt, DC, DICCP, FICC, Kristina Petrocco-Napuli, DC, MS, FICC, and keynote speaker Guy Riekeman, DC, fourth president of Life University in Marietta Georgia and current Chancellor Emeritus. More information about all the presenters is available here.
Stay current.
Twenty-four hours of continuing education opportunities at Symposium 2023 will enable you to enhance your clinical skills while also remaining up to date with state licensing requirements. Contact Logan's Postgraduate Department at 1-800-842-3234 or postgrad@logan.edu to see if continuing education credits have been approved for your state.
Network with colleagues.
Meet up with former faculty members and classmates or expand your network by building relationships with hundreds of leaders in chiropractic and health care from around the world.
Meet future DCs.
Looking to hire, mentor or become a preceptor doctor? Tomorrow's Doctors of Chiropractic are today's Logan students. Meet the best and brightest students who are eager to apply their clinical skills in practice. See how they can be a part of your future, and vice versa, at Symposium.
Discover industry products and services.
Logan's Symposium will feature numerous exhibitors who offer various products and services aimed at helping you succeed in practice. Visit their booths and talk to representatives each day in the Exhibit Hall.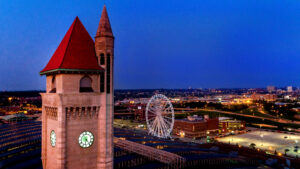 Discover St. Louis' gems.
Experience the best downtown St. Louis has to offer by attending presentations and social events and staying at St. Louis Union Station. Located only 20 minutes from St. Louis Lambert International Airport, this vibrant hotel hosts the St. Louis Aquarium and the St. Louis Wheel, Mini Golf and more! Union Station is only 100 yards from Busch Stadium and the footsteps from the iconic Gateway Arch National Park. Reserve your room today and check out this list of things to see, eat and do in STL.

Visit Logan's campus.
Recognized by MSNBC as one of the nation's most beautiful college campuses, Logan's location in Chesterfield, Missouri, offers 112 acres of green space, forests, water features and one of the nation's top health sciences universities. We welcome you to take a tour, stop by the Alumni & Friends House or see what's new around campus.
Save money.
Register before March 1 and pay only $150 to attend Symposium 2023. After March 1, the cost increases to $175. Plus, take advantage of special room rates at St. Louis Union Station by booking online here.
Have fun!
Registration for Symposium 2023 is available online. We hope to see you there!