If you're analytical and fascinated by health, technology and business; if you're driven to improve outcomes; or if you have a degree or work experience in health care, information management or data analytics, you'll find a rewarding future in health informatics. Named one of the Most Affordable programs in the U.S. by bestvalueschools.com and a Best Online Master's in Health Informatics by Best College Reviews, Logan University's Master of Science in Health Informatics (MSHI) is an interdisciplinary, comprehensive graduate program that prepares students to utilize computer technology in the advancement of medicine. Read on to learn more about this rapidly growing field in the booming health care industry and how to advance your career in health informatics:
What is health informatics?
The U.S. National Library of Medicine defines health informatics as "the interdisciplinary study of the design, development, adoption and application of IT-based innovations in health care services delivery, management and planning." With health informatics:
Health care data and information are organized and analyzed.
Health care professionals improve efficiency by managing, reviewing and analyzing collected data.
Medical records and information can be accessed and stored.
Care providers see more positive outcomes today and in the future.
The entire health care field receives behind-the-scenes support.
Evidence-informed decision making is improved.
Why are health informatics careers in demand?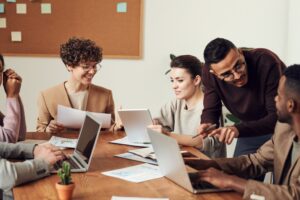 In 2009, the Health Information Technology for Economic and Clinical Health Act (HITECH) was passed to improve care and the patient experience through the use of electronic health records (EHR). With a common platform for sharing patient data, health care providers and researchers have easier access to more information than ever before, creating opportunities to improve outcomes and lower costs.
The growth of the internet and advances in health care and data science have created a great need for experts who can bridge both worlds to develop new ways to collect, manage and interpret health care data. Sitting at the intersection of information technology and health care, Logan's online Master of Science in Health Informatics prepares students to do just that.
What can I expect from my education at Logan University?
Logan's Master of Science in Health Informatics program offers three tracks from which students can choose:
Leadership track, targeted toward students currently in leadership roles related to health informatics or striving for leadership positions in the future. In this track, students build expertise in three major health care areas: health care administration, health information systems and technology, and management and leadership.
Data analytics track, for students new to the industry or for those who want to understand analytics reporting in health care. Students in this track develop the skills necessary to manage, manipulate and analyze largescale clinical and operational databases.
Applied informatics track, which is designed to help health care professionals learn how to manage and analyze data for use in clinical decisions by patients and providers while advancing quality improvement efforts across health systems.
Each of the tracks utilizes industry-driven curriculum taught by world-class faculty. What's more, the Master of Science in Health Informatics degree is taught 100 percent online with three 15-week trimesters per year, so you can start your program at a time that works best for you.
To learn more about these degree tracks and to determine which is right for you, as well as career opportunities, market growth and salary information, download our MSHI Career Guide. 
What is required for acceptance into Logan's Master of Science in Health Informatics program?
An applicant must have:
Earned a baccalaureate degree or higher that is recognized by the U.S. Department of Education or the Council for Higher Education Accreditation (CHEA).
Earned a minimum cumulative grade point average of a 2.5 on a 4.0 scale in his or her qualifying bachelor's degree.
Earned six semester credit hours of coursework in business, accounting, management, math, statistics, healthcare, or computer science with grades of C or higher in each course.
What careers are available to me after graduation?
With projected job growth of 18 percent through 2028, the field of health informatics is a rewarding career option for people from a variety of professional backgrounds. In addition to presenting opportunities to make a difference by improving health care management and patient outcomes, the median annual salary for health informaticists is $90,000, and 77 percent of master's program graduates report receiving a salary increase.
Graduates of Logan's Master of Science in Health Informatics have the necessary skills and knowledge to work in a variety of settings, including hospitals, clinics, insurance companies, colleges and universities, research departments, vendor companies and consulting firms. New and experienced health informaticists find rewarding positions as Director of Clinical Information Systems, Chief Medical Information Officer, Chief Nursing Informatics Officer, Director of Business Informatics and Data Architect.
Think a career in health informatics is right for you? Get in touch with our admissions team today!