This March, students in Logan University's Master of Science in Applied Nutrition & Dietetics (MS-AND) program will recognize National Nutrition Month through a variety of initiatives and activities.
"Our goal is to focus on sustainable eating habits that can enable the Logan community to lead healthier lives while also helping the planet," said Mandeep Kaur, an MS-AND student in her seventh trimester at Logan. "We also hope they become more aware of the MS-AND program and the skills and knowledge we bring to the table as future registered dietitians."
National Nutrition Month is an annual campaign the Academy of Nutrition and Dietetics created in 1973. It encourages people to make informed food choices and develop healthy eating and physical activity habits. The 2023 theme, "Fuel for the Future," aims to promote ways people can nourish themselves and protect the environment.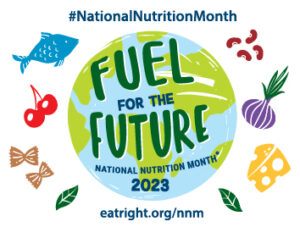 Throughout March, MS-AND students will serve nutritious meals related to the Fuel for the Future theme in the Logan Café. This initiative is part of Healthy Hub, which began in fall 2022 to help MS-AND students complete the supervised experiential learning (SEL) required to graduate from the program.
"I was talking with Kurt Sliefert, Logan's food service director, when I realized that we should be using our own cafeteria as an SEL site," said Sophia (Dia) Finder, MEd, RD, LD, clinical coordinator for Logan's MS-AND program. "I thought, 'Our students are completing their SEL rotations at schools, hospitals, businesses and organizations all over St. Louis, so why can't they also be here on campus?' That's when we came up with the idea for Healthy Hub, and it has continued to grow from there."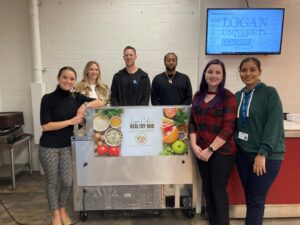 In addition to cooking and serving the Healthy Hub meals, MS-AND students source and purchase the ingredients, determine pricing and develop educational materials designed to teach the Logan community about the food they are eating. These are distributed as handouts, displayed on monitors in the Logan Café, and given to Logan's Doctor of Chiropractic (DC) students, who offer them to their patients during clinical rotations.
"The educational component of Healthy Hub encourages collaboration between MS-AND and DC students," Dia said. "By working together, we can better serve all our patients. Also, because the MS-AND program is still new, it is helping us build relationships with the entire campus community."
In honor of National Nutrition Month, MS-AND students will distribute handouts with tips to achieve good nutrition, sustainable eating and active living at the Healthy Hub station in the Logan Café.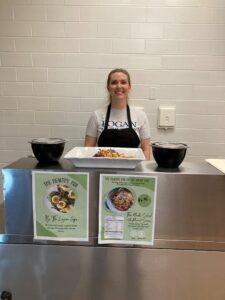 The MS-AND students are working with the Logan Garden Club. They plan to grow produce and herbs that will be used in the Logan Café and in Healthy Hub meals. This is one way sustainability can be incorporated on Logan's campus.
The Logan Garden Club will also be hosting its first plant sale on March 21 in front of the Logan Café. In addition to purchasing plants grown in the greenhouse, patrons can learn more about National Nutrition Month at a special booth that MS-AND students will manage.
To further observe National Nutrition Month, MS-AND students will record cooking demonstrations that will be shared on the university's website and social media pages.
"We want to inspire the Logan community with new ways to eat healthy that include food sources that can be easily harvested at home," Mandeep said. "We're looking forward to celebrating this important month in dietetic history with the entire Logan community."
For more information about National Nutrition Month, including educational materials and ways to get involved, visit the Academy of Nutrition and Dietetics website.