Through their care, Doctors of Chiropractic (DCs) can improve patients' health, performance and quality of life naturally and non-invasively—without the use of prescription drugs. As public interest in drug-free pain management grows, chiropractors have become integral members of a patient's care team. In fact, according to Forbes, there will be a 12% increase in demand for chiropractors from 2016-2026—faster than the average growth for all occupations.
Whether you want to own your own practice or work in a clinical setting with other health professionals, as a chiropractor you can tailor your career to your interests and build a life that's rewarding on all levels. How do you get there? We've broken it down, from the best undergraduate areas of study, to what you can expect from your education at Logan University and beyond.
What is chiropractic?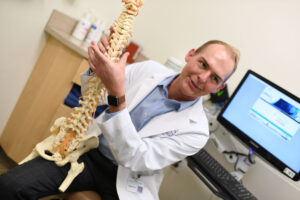 The American Chiropractic Association (ACA) states: "Chiropractic is a health care profession that focuses on disorders of the musculoskeletal … and nervous systems, and the effects of these disorders on general health. These disorders include, but are not limited to: back pain, neck pain, pain in the joints of the arms or legs, and headaches. DCs practice a conservative approach to health care that includes patient examination, diagnosis and treatment. DCs have broad diagnostic skills and are also trained to recommend therapeutic and rehabilitative exercises, as well as to provide nutritional, lifestyle and dietary counseling."
What should I study in undergrad to become a chiropractor?
If you're considering a career in chiropractic care, undergraduate programs in exercise science, kinesiology, biology or a pre-health care professional track (pre-med, pre-DC, pre-PT, etc.) will prepare you well for the rigorous curriculum of a DC program.
In fact, the Bachelor of Science in Human Biology or Bachelor of Science in Life Science programs at Logan University can jumpstart your DC career, saving you both time and money.
What's required for acceptance into to a Doctor of Chiropractic program?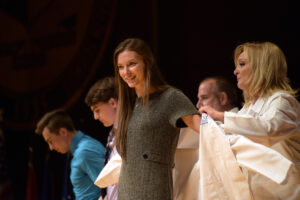 As one of the nation's top natural health universities, Logan offers several ways for future leaders to enter our DC program. Generally speaking, prospective students must have at least 90 semester hours of undergraduate coursework, with a minimum of 24 in life/physical science courses (half of these courses must have an associated lab portion), and a cumulative GPA of 3.0 or higher.
Additional pathways to Logan, such as the 3+3 Program, the Early College Credit Program and the Alternative Admissions Track Program, can help you earn credits toward your DC degree. Visit our admissions requirements page to learn more about these options.
What can I expect from my education at Logan University?
At Logan University, you'll be exposed to more clinical opportunities earlier in your education than in any other DC program. In fact, you'll spend 40% of your first year in hands-on clinical skills courses. We are committed to an outcome-based, evidence-informed curriculum, which means while our DC curriculum is grounded in four core techniques, we also offer instruction in 15 evidence-based techniques—more than any other DC program—so you can customize your curriculum to match your career goals. You can also supplement your DC degree with optional master's degree programs in Nutrition, Sports Science and Health Informatics.
Logan University operates on a trimester basis, and the DC program requires 10 trimesters of study:
Trimesters 1-3: Basic Science. During your first year, you'll obtain an understanding of science through classes in anatomy, physiology and biomechanics and lay the foundation for chiropractic knowledge by studying the principles of chiropractic and fundamentals of assessment. You'll apply the skills learned in these courses during mock clinical encounters with standardized patients—which leads to increased retention of the theoretical science and greater confidence in communicating with patients in the role of their doctor.
Trimesters 4-6: Chiropractic Science. In year two, you'll spend 90% of your time in hands-on clinical skill courses while building on the knowledge acquired in year one. You will strengthen your science foundation with courses in neurological disorders, applied physiology and internal disorders. You'll also incorporate classes such as accounting and finance for health care, statistics for health care and professional ethics to ensure you'll be practice-ready upon graduation.
Trimester 7-10: Clinical Portion. These four trimesters are all about treating patients and learning management skills. Logan's clinical system will take you through multiple levels of clinical complexity and patient variety. Not only will you get to work with some of the best clinicians in the world, but you will also have the ability to work in some of the most cutting-edge clinical sites around the globe (check out our Preceptorships Map below!). Our goal at the end of your clinical training is that you will have the skills and confidence to work with any patient who enters your practice.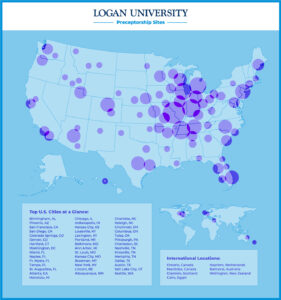 What are the board exam and state licensure requirements?
Like other physician-level occupations, DCs must pass national board exams. For chiropractors, the exams are administered by the National Board of Chiropractic Examiners (NBCE), and the major steps include:
Part I: Basic sciences (taken in your second year of the DC program)
Part II: Clinical sciences (taken in your third year of the DC program)
Part III: Clinical competency (taken within nine months of graduation)
Part IV: Practical skills (taken after passing all subjects of Part I and within six months of graduation; exam can also be taken after graduation from an eligible chiropractic college, like Logan University)
In addition to passing NBCE board exams, nearly all states require DCs to pass a state-administered exam in order to receive their state-issued license. Requirements vary by state; visit the American Chiropractic Association for information from each state's licensing board.
What opportunities are available to me after graduation?
With a DC degree from Logan, you'll be more than ready to take your place at the forefront of integrated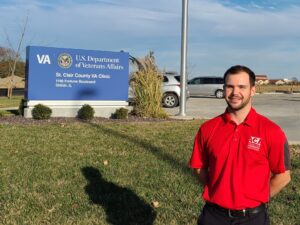 health care. Our graduates go on to open solo or group private practices, work in hospital systems, integrated care facilities and Veterans Affairs facilities, care for athletes and sports teams, and so much more.
Additionally, after completing chiropractic school, some individuals choose to continue their education via postdoctoral training programs such as residencies or fellowships. Chiropractors can also seek a variety of chiropractic specialty and subspecialty certificates and advanced training in areas like radiology, rehabilitation, acupuncture, neurology or nutrition.
Interested in pursuing a career in chiropractic care? Get in touch with our admissions team today!