At Logan University, we know high-performing athletes deserve the most qualified, well-rounded athletic performance coaches. With a science-based, evidence-informed curriculum, our Master of Science in Strength and Conditioning is an industry-driven program developed and led by experienced, active leaders in athletic performance.
What's required for acceptance into Logan's strength and conditioning program?
Applicants must meet the following criteria:
A baccalaureate degree or higher from an institution that is recognized by the U.S. Department of Education or the Council for Higher Education Accreditation.
A minimum GPA of 2.5 on a 4.0 scale in a qualifying bachelor's degree.
Submission of official transcripts.
Completion of required pre-requisite coursework from an accredited institution with a C or better, including six semester credit hours of either physics, kinesiology, exercise science, biomechanics or statistics and six credit hours of biological science. Students not meeting course prerequisites may be probationally admitted. Probational students acknowledge that prerequisite courses prepare stronger candidates for success but still wish to pursue the degree.
Applications and materials must be submitted at www.Logan.edu.
Why should I choose Logan University for my Master of Science in Strength and Conditioning?
With primary goals of improving athletic performance, reducing athletic injuries and teaching lifelong fitness and movement skills, a strength and conditioning coach is a crucial part of an athletic team. Strength and conditioning coaches develop programs that aim to help athletes improve strength, speed, explosion, agility, flexibility, body composition, nutrition and conditioning.
Advanced degrees are becoming more common in the industry, with many teams and employers preferring candidates with a master's degree. Logan's Master of Science in Strength & Conditioning program can help advance your existing career as a strength coach or launch you into the growing field:
One-year: Seven-week accelerated format allows students to complete program in just one year—meaning you'll be on your way to advancing your career sooner than in other similar programs.
Flexible format: Online with a supplementary three-day, in-person resistance training and conditioning lab.
Leadership: Instructors are experienced, highly respected coaches in athletic performance who maintain the CSCS certification.
Preparation: Graduates gain knowledge and confidence to sit for the NSCA CSCS certification exam.
Hands-on learning: Field experience courses offer hands-on opportunities to immerse students in an athletic performance setting, preparing them for success in the field with opportunities to combine the art and science of being a strength and conditioning coach.
Support: Academic success coaches provide resources and help students navigate the online environment.
What can I expect from my education at Logan University?
Graduates will be well-prepared to apply scientific knowledge to train athletes for the primary goal of improving athletic performance—whether that's conducting sport-specific testing sessions, designing and implementing safe and effective strength training and conditioning programs, or providing guidance on nutrition and injury prevention. Additionally, following graduation, students are prepared and eligible to sit for NSCA Certified Strength and Conditioning Specialist (CSCS) exam—the gold standard in athletic performance.
What career opportunities are available to me after graduation?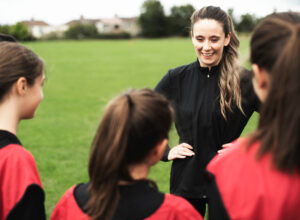 With a projected job growth of 11% between 2018 and 2028, Logan-educated strength & conditioning coaches may find careers in:
High school, college, semi-pro and professional athletics
Training facilities and private gyms
S. Military
First responder units
Education and research
Get in touch with our admissions team today to learn more about our new program, now enrolling for summer 2022.