Do you have a passion for health care and an interest in education? Logan's Doctor of Health Professions Education (DHPE) can set you on the path to a rewarding and influential career through which you can impact health care for generations to come. Read on to learn how to become a doctor of health professions education.
Why should I earn my Doctor of Health Professions Education?
We believe the best health care education comes from health care professionals. Logan's DHPE program combines your health care experience and talents with exceptional teaching methods and practices. Health care jobs are expected to grow by 18% through 2026 … who will prepare tomorrow's nurses, dentists, nutritionists and other professionals to serve in these important roles? With a DHPE from Logan University, you can learn how to make your career experience teachable and pass on your knowledge to the next generation.
Why should I choose Logan to pursue my Doctor of Health Professions Education?
Logan's DHPE program lets you put your health care knowledge and experience to work in new ways. You'll gain the in-depth knowledge and practical skills to apply your content expertise or clinical experience to education, thus preparing future practitioners to excel.  Our DHPE is taught 100% online and allows you to choose a part- or full-time course load, so you can advance your career without putting it on hold. For added convenience, you can complete the applied research project and practicum online or at your workplace. Plus, your classmates will come from all kinds of health care backgrounds, giving you the opportunity to learn from varying experiences, perspectives and outlooks.
What's required for acceptance into Logan's Doctor of Health Professions Education program?
Master's degree or higher from an accredited college or university.
Official transcript from each institution attended, sent directly to Logan University.
Minimum cumulative GPA of a 3.0 on a 4.0 scale.

An applicant with qualifying post graduate coursework may have those courses and cumulative GPA re-evaluated by the Admissions Committee.
Applicants with a GPA between 2.5 and 2.99 may appeal to the Admissions Review Board for a probationary acceptance to Logan.

Completion of the admissions application with non-refundable application fee and current resume or CV.
Applicants wishing to complete their practicum and/or research projects related to their clinical practice skills must provide a copy of a valid license and must remain in good standing with their licensing board.
What can I expect from my education at Logan University?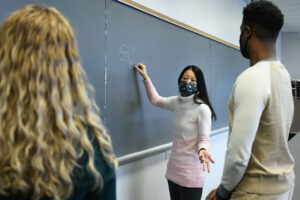 The program is completely asynchronous, meaning learning is done on your schedule. Logan operates by trimesters, with three 15-week sections each year. An academic degree plan from a previous year can be found here, which will give you an idea of what each trimester's courses will look like.
After graduating from the DHPE program, you can expect to have mastered advanced teaching skills, technology and curriculum development. You'll have also learned to apply your expertise to educating future practitioners and be able to:
Use communication skills that result in effective information exchange.
Apply core health professions education competencies to practice/teaching.
Use credible information from a multitude of sources to make informed decisions in an area of teaching.
Perform the educator's role in ways that demonstrate professional integrity.
Apply best practices in education to the development of quality learning experiences for adults.
Advance education practice through scholarly research.
What career opportunities are available to me after graduation?
With a DHPE, you can do so much to shape and improve the future of health care for all. After graduation, you'll have gained the academic foundation and practical skills to share your knowledge in a college, university, online or health care setting. The DHPE program is the perfect next step toward a rewarding career as a health educator, university faculty or administrator, trainer or mentor.
Think the DHPE program is right for you? Get in touch with our admissions team and begin your journey to become a doctor of health professions education today!