Details
Jul 15, 2022
11:30am – 12:30pm
This is a free event
15th Annual Joseph W Howe Oration in Diagnostic Imaging
"Cervical spine pain in the concussion patient. Discussion of the current literature"
Presented by: Jeffrey King, DC, MS
Friday, July 15, 2022 @ 11:30 am
Location: Classroom G-134
The oration will also be Livestreamed here.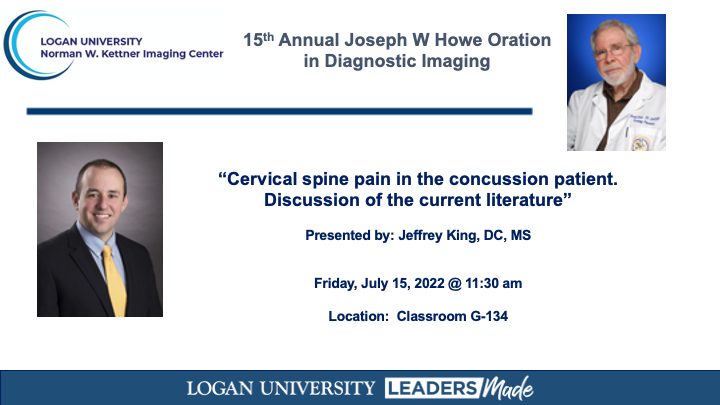 The Department of Radiology of Logan University will host the 15th Annual Joseph W Howe Oration in Diagnostic Imaging. This Oration is designed to honor the extensive contributions and achievements of Dr. Joseph Howe to the education, research and practice of chiropractic radiology. Every year, eminent speakers have been selected to deliver the Oration from the fields of radiology, clinical practice, education and research, reflecting the extraordinarily wide scope of intellectual interest and contributions in the career of Dr. Joseph Howe. Dr. Howe has served as faculty in the Department of Radiology from 2002-2019. The 15th Annual Oration address on July 15th will be delivered by Jeff King, DC, MS.
Dr. King is the director of chiropractic at the Medical College of Wisconsin in the department of neurosurgery. He sees patients at the "SpineCare" clinic. In addition to his clinical duties, he serves on many service line committees within the health care system and was previously the chair of the chiropractic examining board. Dr. King's research interests are on the impact of cervical spine pain in concussion patients. Dr. King's Lecture Title for the Oration is "Cervical spine pain in the concussion patient. Discussion of the current literature".
Lunch will be provided for the first 30 attendees. Please join us on Friday, July 15, 2022 at 11:30 am for an in-person lecture in classroom G-134 to celebrate the distinguished career of Dr. Joseph W Howe.