Logan's Master of Science in Sports Science & Rehabilitation (MS-SSR) educates the most qualified professionals committed to recovery and athletic performance—and with a growing need for both, there's never been a better time to pursue this degree.
What's required for acceptance into Logan's sports science & rehab program?
Applicants must meet the following criteria:
Earned a baccalaureate degree or higher from an institution that is recognized by the U.S. Department of Education or the Council for Higher Education Accreditation.
A minimum GPA of 2.5 on a 4.0 scale in undergraduate studies.
Submission of official transcripts.
Completion of required pre-requisite coursework from an accredited institution with a C or better, including six credit hours of either physics, kinesiology, exercise science, biomechanics or statistics and six credit hours of biological science.
Applications and materials must be submitted at www.logan.edu/admissions/apply.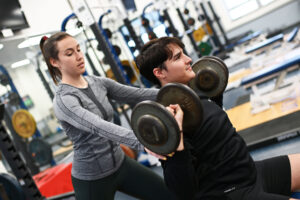 Why should I choose Logan University for my Master of Science in Sports Science & Rehabilitation?
Logan's MS-SSR program educates professionals committed to recovery and athletic performance. With approachable, connected faculty, our engaging online platform provides students with the flexibility to explore opportunities in health and wellness on their own schedule (students can choose a part- or full-time course load) and from virtually anywhere in the world. Additionally, our program is one of the few of its kind that meets the standards for multiple professional certifications—meaning you'll be prepared to take the next step for your career immediately following graduation.
What can I expect from my education at Logan University?
Our evidence-informed curriculum utilizes a combination of online and hands-on, applied learning to help students develop a global understanding of the body and functional biomechanics. Core courses cover anatomy, psychology, nutrition and physical performance, research and more, while elective courses are offered in clinical exercise physiology, sports and emergency care, exercise testing and prescription, active and passive extremity rehabilitation and exercise prescription for special populations. Following didactic coursework, students put their education to action through a hands-on clinical internship at a location of their choosing, such as with sports teams, performance centers, hospitals and schools.
Following graduation, Logan Sports Science & Rehabilitation students are prepared and eligible to sit for multiple certifications, including:
Certified Strength & Conditioning Specialists (CSCS)
NSCA-Certified Personal Trainer (NSCA-CPT)
Tactical Strength & Conditioning Facilitators (TSAC-F)
Certified Special Population Specialist (CSPS)
ACSM Certified Exercise Physiologist
Certified Chiropractic Sports Physician (CCSP)*
Diplomate in American Chiropractic Board of Sports Physicians (DACBSP)*
International Certificate in Sports Chiropractic (ICSC)*
*For MS/DC only.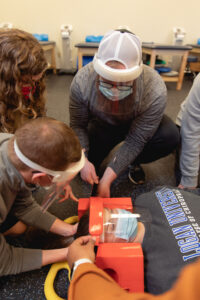 What career opportunities are available to me after graduation?
Logan MS-SSR graduates apply their training in variety of areas, including private practice or clinical settings, on staff for college and professional sports teams, as personal trainers and coaches, as well as in research and academia. Additionally, many professionals, such as Doctors of Chiropractic, physical therapists and cardiac rehabilitation specialists, complete the program to give themselves a competitive edge in their existing careers.
Our alumni network includes Olympic athletes, athletic performance coaches and physicians working with NCAA and professional sports teams as well as UFC fighters, gym and private practice owners, educators and more.
Get in touch with our admissions team today to learn more about our internationally recognized program.