Back in the mid-90s when Chris Williams, DC ('98) was still a student at Logan, he wrote down three goals:
Open two chiropractic offices
Work with a professional sports team
Retire by age 50
Dr. Williams proudly accomplished those goals at the end of 2020. But 2021 would bring one more life experience that Dr. Williams never could have imagined: being a part of the team that won the Super Bowl.
Leading up to that, he recalls a single moment during halftime at the Buccaneers vs. Giants Monday night game on November 2, 2020. "It was super cold and we weren't playing that well. Tom Brady gave a powerful speech. Then, he gave everyone the nod, like 'let's do this.' I knew then something special was going to happen."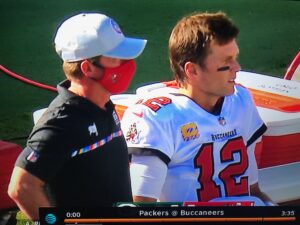 After that, the rest was history. Dr. Williams said there are no words for what it was like to experience the Super Bowl—the excitement, the energy and of course the victory. "Being able to hear and see all that goes on from the sideline and in the locker room is amazing," he said.
Looking back though, Dr. Williams says chiropractic wasn't a calling at a young age, nor was it on his horizon as a career path. After graduating from Illinois State University in 1993 with a double major in finance and business, Dr. Williams took a job at a bank. Feeling unfulfilled, he called on his friend Dan Wiegand, DC ('98), who also was reconsidering his career path in business.
"I was intrigued by doing something medical with sports, and so was Dan," he said. "We talked about chiropractic school and drove down to Logan on a Friday. By Saturday night, we had both signed student loan papers and an apartment lease."
Chiropractic school, Dr. Williams admits, was not easy. He recalls sweating at night studying for board exams and balancing coursework with a job at the gym to help pay his tuition. "It was hard," he said, "but I kept my focus."
He credits that determination to Logan professors and Drs. Ralph Filson, Ralph Barrale and Mike Wittmer, among several others. "Dr. Filson was my mentor," Dr. Williams said. "The one who I really bonded with and who provided me with the confidence I had but he made sure I understood what I was learning from a technique standpoint."
As a student, he looked up to them, and now, as a seasoned chiropractor, he sees what an influence they had on his own career. "These guys were first class all the way. They were well spoken, successful, had private practices and they had a plan," he said.
At that point, with his own goals in place, Dr. Williams looked at everything as an opportunity to gain experience, whether it was meeting up with classmates in a friend's apartment to practice techniques or writing more than 30 letters to Logan graduates, asking if he could shadow them during his trimester breaks. The hard work paid off. "I really got to see what goes on in practice and get a hands-on look at chiropractic in action," he said.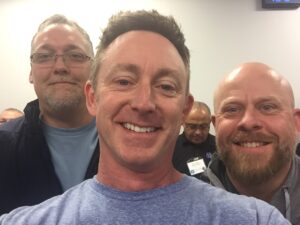 While at Logan, he joined Pi Kappa Chi Fraternity where he learned more about chiropractic technique and adjustments. During this time, he became close friends with two classmates—Charles "Chuck" Clark, DC ('98) and Dustin Kollar, DC ('98). Today, Dr. Clark is team chiropractor for the Arizona Coyotes Hockey Team and Arizona Diamondbacks baseball team, while Dr. Kollar is team chiropractor for the Hillsboro Hops, the minor league affiliate of the Arizona Diamondbacks. "It's very cool to see my buddies' success," Dr. Williams said.
After graduating from Logan, Dr. Williams worked at a practice for several years near Charlotte, North Carolina, with the ultimate goal of working with athletes. He met his wife who was a nurse, and after getting married, they moved to Tampa to be closer to her family.
"I remember opening my practice in January 2005," he said. "The first day, not one patient. Then I got a few walk-ins. And in November of that same year, I opened my second practice." Before too long, his practices took off, and he had two doctors of chiropractic and three massage therapists on staff.
In 2013, Dr. Williams received a call from the Tampa Bay Rays of Major League Baseball—they were looking for a team chiropractor. He accepted the position and still today treats some of the most elite baseball players in the country. Dr. Williams said he feels lucky to be associated with the team, and as a member, he frequently collaborates with chiropractors for other MLB teams through the Professional Baseball Chiropractic Society, many of whom happen to be Logan graduates as well.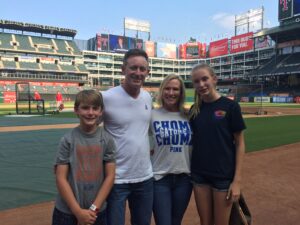 In 2015, several football players for the Tampa Bay Buccaneers started coming by Dr. Williams' practices, and it wasn't long before he was asked to serve as team chiropractor. But with two practices, his wife, two kids and his commitment to the Tampa Bay Rays, Dr. Williams passed at the opportunity.
Three years later, the timing was right, and in 2018, Dr. Williams joined the Buccaneers. During the season, his job is to provide chiropractic care to athletes for three hours before games, during the game on the sidelines and in the locker room, and at halftime.
Dr. Williams admits he's a "baseball guy" but loves the opportunity to serve as the team chiropractor for football as well, and especially likes the diversity in how he treats players. "They're all using the same muscles, but in baseball, players are running in a circle and throwing with the same arm, so we see a lot of overuse syndromes," he said. "In football, we're seeing guys jump, drive and endure violent impacts and collisions. It's less about overuse and more about abrupt soft tissue musculoskeletal injuries, severe at times."
For these athletes, like others, it takes a team of health care providers to keep them in top shape. Dr. Williams works alongside medical physicians and athletic trainers who all provide a different range of care and expertise. "As a chiropractor, I stay in my lane. I adjust, and when I see issues outside my scope, I go to the head trainer and tell him what I found. He is the gatekeeper, and we collaborate to determine the best course of action."
Dr. Williams sees the value in whole body health and how chiropractic paves the road to educate patients and athletes on recovery and rehabilitation, proper posture, wellness, nutrition and sleep.
That philosophy will be maintained by fellow chiropractor Dr. Tan Tran who purchased Dr. Williams' two practices in October 2020. While Dr. Williams retired from seeing those patients on a regular basis, he remains committed to the Rays and Buccaneers, and at the same time, is enjoying the ability to slow down and spend time with his wife and family.
"After nearly 22 years of practicing chiropractic, you have to be careful with your body," he says. "I enjoy getting out to golf, hanging out with my kids and my parents, who just moved next door, and getting involved with my church as well as volunteer work. Being able to spend more time with my wife is awesome."
As for the next chapter of his life and reaching goals, Dr. Williams looks toward staying active and perhaps passing his knowledge on to the next generation of chiropractors.
"To Logan grads, stay humble," he said. "You can't do everything perfect. But do the best you can and be honest with people with respect to what they may expect. If you are truly willing to put in the work, you will have obstacles, but keep focused and grounded."
Dr. Williams may be reached at drchristopherwilliams@msn.com.