Your Investment, Our Gift
Logan is a community. As in any community of caring individuals, we help one another to reach our highest potential. We are a group of alumni, faculty and friends that collectively believe in the power of chiropractic and health sciences. Our community has the potential to be the vital component in the ongoing success of Logan graduates. Logan has provided the foundation for these future leaders to develop, but we need your help to ensure the opportunity exists.
Introducing new technologies into our curriculum and enhancing the student learning experience has always been fueled by the investment of practitioners and alumni who believe in constantly improving patient care. As we've transitioned to hybrid learning environments where needed, this outside-of-the-box approach to education has been quite the challenge and a must.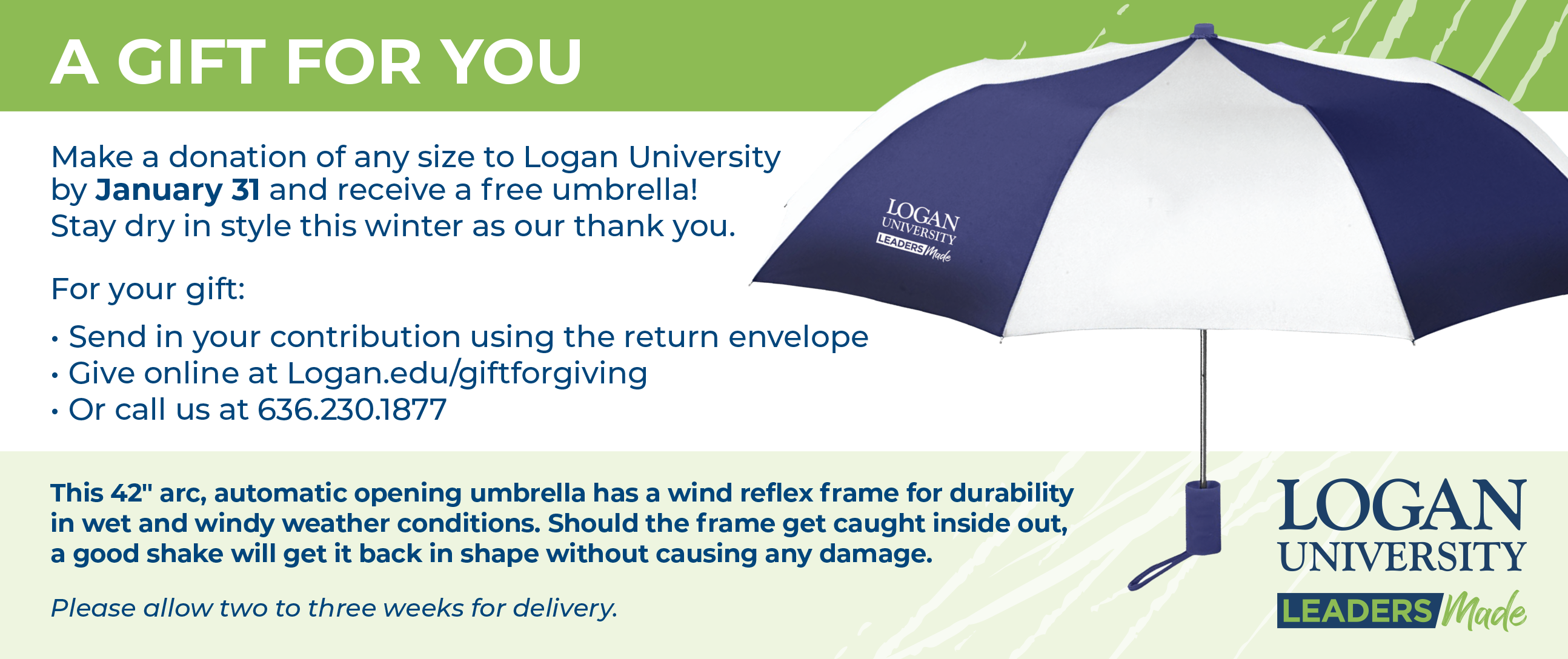 A gift of $50, $100, $250 or more gives students the most effective resources for learning and keeps Logan at the forefront of Health Science & Chiropractic education. Make a donation of any size to any project before January 31 and receive a complimentary umbrella..
Designate Your Giving…
Scholarship Support
Too many prospective students and families are restricted by the cost of higher education – you can make the difference and ensure financial access for students with limited means.
In 2020 & 2021, we awarded over $660,000 in scholarship support to 50 students.
Area of Greatest Need
Provides the College of Chiropractic & College of Health Sciences with unique funds which help with unexpected or urgent projects, equipment, or resources.
Innovation Fund
Brings state-of-the-art and emerging technology to our classrooms to strengthen student understanding with the goal of improving patient care.
Updates and upgrades our equipment to ensure students are leveraging the most current tools and resources available in chiropractic care.
Produces practice-ready graduates through immersive and collaborative experiences, including our effective preceptorships and internships through which students shadow and work alongside leaders in chiropractic across the country.
Thank you for your support to Logan University at this important time!
Charitable Deduction Guidelines
The Coronavirus Aid, Relief, and Economic Security Act (CARES Act) includes enhanced charitable income tax deduction provisions for cash donations made in 2021 to certain public charities, including higher education institutions.
Your gift to Logan University will be fully tax-deductible.
The CARES Act provides a $300 deduction to non-itemizers and increases the annual deduction limit for cash donations by individuals to charitable organizations from 60% to 100% of the taxpayer's annual gross income. The deduction limit for corporations also has increased from 10% to 25% of taxable income.
We always encourage you to consult with your tax adviser for more details regarding your personal tax liability.