Logan University 2020 Spring Symposium Announcement
To our valued Symposium guests, speakers, sponsors, vendors, partners and volunteers:
As much as we were excited about hosting the 2020 Spring Symposium at the end of April, we must follow the Centers for Disease Control and Prevention (CDC) guidelines and cancel the event, safeguarding the health and wellbeing everyone involved and our community.  This is in accordance with the most recent direction to limit the size of gatherings in an effort to reduce the spread of the Coronavirus/COVID-19.
Guests and vendors, we are committed to providing you a refund for your full payment amount. Please allow approximately four weeks for refunds. Payments made via credit card will be refunded back to the card. Check payments will be issued a refund check.
NOTE: If you reserved your own hotel room at St. Louis Union Station, you are responsible for cancelling the reservation.
We understand that your decision to attend Symposium may have been driven by the opportunity to earn continuing education credits, and we want to ensure you're still able to do so. In partnership with CE4Chiros.com Logan offers postgraduate programs whereinparticipants can register for on-demand, online classes taught by qualified instructors. Visit https://www.ce4chiros.com/ for more information about available postgraduate seminars.
Again, we apologize and hope you understand the decision to cancel Symposium under the current circumstances affecting the globe.
We look forward to bringing a bigger and better Spring Symposium to St. Louis in 2021.
If you have any other questions or concerns, please do not hesitate to reach out by emailing postgrad@logan.edu or calling 800-842-3234.
Join colleagues, faculty and staff for Logan University's seventh annual Spring Symposium featuring speakers and continuing education opportunities, chiropractic exhibitors, networking events and an address by Logan's President, Clay McDonald, DC, MBA, JD.
We are excited to welcome the following plenary speakers to the 2020 Symposium: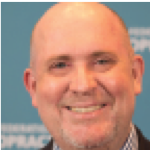 Richard Brown, DC, LLM, FRCC, FBCA, FEAC, FAECC
Dr. Brown serves as the secretary-general of the World Federation of Chiropractic (WFC) and is responsible for strategic policy development. He is past president of the British Chiropractic Association and has been awarded Fellowships from the Royal College of Chiropractors, European Academy of Chiropractic and AECC University College, among others. His keynote address will show how every chiropractor can integrate the WFC's global principles to advance chiropractic through evidence-based, people-centered, inter-professional and collaborative care.
Dr. Brown will present #BeEPIC: Our Great Global Opportunity on Friday, May 1, from 8:30am – 9:20am at St. Louis Union Station.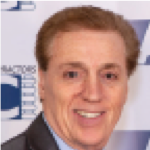 Steven Clarke, DC
Practicing chiropractor and New Jersey Chiropractor of the Year, Dr. Clarke ('82) is a current elected state board member of the Association of New Jersey Chiropractors (ANJC). For decades he has worked with legislators to improve healthcare for all patients throughout the state. Dr. Clarke will share successful results that the ANJC has accomplished by working together to improve better access to chiropractic care for patients, such as legislation to expand scope of practice, licensing chiropractic assistants and standing up to the major insurance carriers.

Dr. Clarke will present Doing the Impossible … Chiropractic Profession Unity on Friday, May 1, from 7:30am – 8:20am at St. Louis Union Station.
James Loomis Jr., MD, MBA
Dr. Loomis is the medical director for Barnard Medical Center in Washington, DC. He served as team internist for the St. Louis Rams and the St. Louis Cardinals. Previously, he practiced internal medicine at St. Luke's Hospital in St. Louis, and was on the clinical faculty of the department of internal medicine at Washington University School of Medicine. Dr. Loomis will review the contribution of an evolutionarily mismatched lifestyle to the root cause of chronic disease and help attendees understand the profound changes in the "standard American diet" over the last 50 years and how these changes contribute to chronic disease. He will also discuss the evidence that a plant-based diet may prevent, treat and sometimes reverse chronic disease.
Dr. Loomis will present Food as Medicine: The Evidence Underlying the Transformational Power of a Whole-Food Plant-Based Diet on Saturday, May 2, from 7:30am – 8:20am.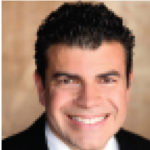 Fab Mancini, DC
World-renowned chiropractor with more than 30 years of experience, Dr. Mancini is an internationally acclaimed educator, business leader, speaker, consultant and President Emeritus of Parker University. He was named Humanitarian of the Year, CEO of the Year and inducted into the Wellness Revolutionaries Hall of Fame. In this session, Dr. Mancini will share the latest communication behaviors and mindset that work to better communicate the value of chiropractic with existing patients and the community.
Dr. Mancini will present Communication Framework for the Chiropractic Professional (sponsored by Review Wave) on Saturday, May 2, from 1:30pm – 2:20pm.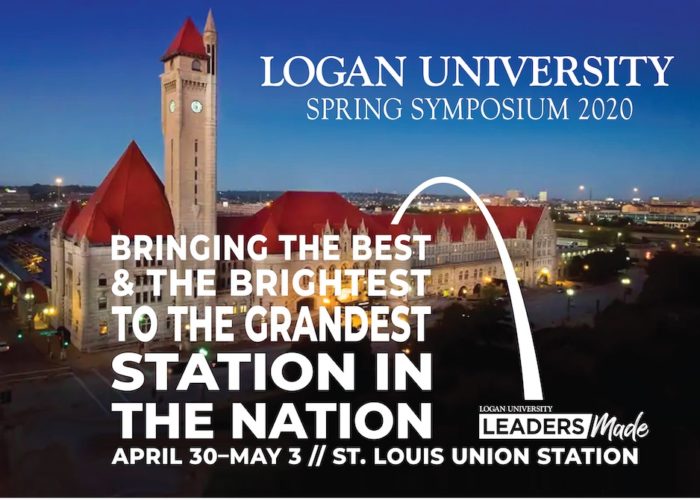 We are excited to announce a new location for the Logan University 2020 Symposium: the landmark St. Louis Union Station – a hotel, event space and attraction destination.
The iconic Union Station is nearing the completion of a multi-year renovation aimed at preserving its rich history while offering a variety of new amenities, from a Ferris wheel and aquarium to specialty restaurants. The new location can accommodate growing attendance and provide unique social and networking opportunities for attendees. Classes and events will also be hosted on Logan's Chesterfield campus.
Complimentary shuttle service Thursday April 30, 2020
Pickup from Union Station Hotel and drop off at Logan University: 10:30am, 2:00pm, and 4:00pm
Pick up from Logan University and drop off at Union Station Hotel: 5:00pm and 7:15pm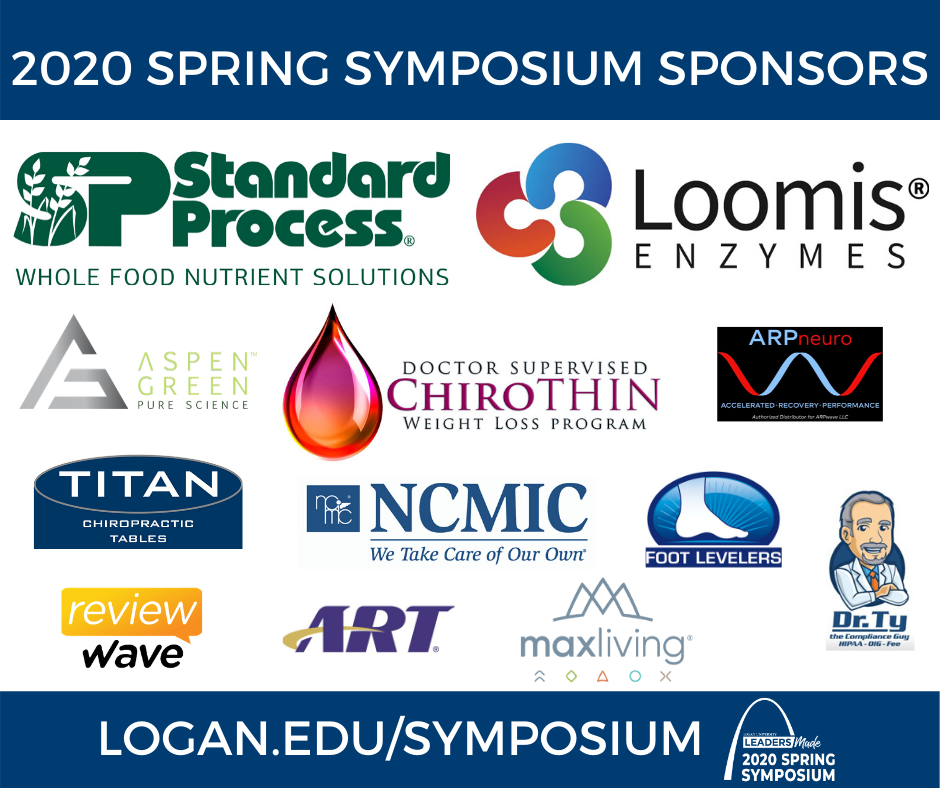 2019 Spring Symposium
Check out all of the highlights from our 2019 Spring Symposium.